A travel agency is a private retailer or public service that provides travel and tourism-related services to the general public on behalf of accommodation or travel suppliers to offer different kinds of travelling packages for each destination. Travel agencies can provide outdoor recreation activities, airlines, car rentals, cruise lines, hotels, railways, travel insurance, package tours, insurance, guide books, VIP airport lounge access, arranging logistics for luggage and medical items delivery for travellers upon request, public transport timetables, car rentals, and bureau de change services. Travel agencies can also serve as general sales agents for airlines that do not have offices in a specific region. A travel agency's main function is to act as an agent, selling travel products and services on behalf of a supplier. They do not keep inventory in-hand unless they have pre-booked hotel rooms or cabins on a cruise ship for a group travel event such as a wedding, honeymoon, or other group event.
Who is the target market?
Most clients and customers are people who want to travel to another country. While domestic agencies do exist, the market is really in international travel these days. The types of clients an agency might serve depend entirely on the current market place. Client needs range from simple vacations to corporate retreats to medical tourism.
How does a travel agency make money?
Commissions are the way in which travelling agencies have traditionally made the majority of their income. Airlines and hotels would pay agencies a certain fee for utilizing their companies when booking for a client. However, with the recent proliferation of booking technology, including Google Travel, travelling apps, and company websites, these businesses are more accessible to consumers and no longer rely on travelling agencies to promote their services. For this reason, airlines and hotels have largely stopped paying travel agencies commissions. As a result, travel agencies have been forced to adapt, focusing less on simple bookings and more on navigating complex itineraries and the legalities of travelling in specific regions or countries. They have shifted to charging flat rates for bookings and hourly rates for consulting services related to planning travels and navigating legalities.
Need Travel Agency Website?
Are you looking for an expert developer to make the Travel and Hotel booking affiliate website for your business? in this gigs i am offering you that i will create your expected, user friendly and responsive design. This is precisely the right time to start out earning online with little investment. with this travel affiliate website. With this travel affiliate website you will earn a commission every time your users click on deals. This opportunity is really great.
I will integrate the Affiliate platform of travel and hotel booking websites like #Airbnb, #travelpayouts, #Hotel combined #booking.com, #Expedia #villas #Agoda so on.
Service included:
Install WordPress and theme setup
Page setup and Content upload
Affiliate program setup by API
Booking and availability check
Own business add and availability check
Payment gateway integrate
Multicurrency system
Email subscriptions system
Review system and contact
High security and full responsive design
Much more++
I am a professional Web Designer and Developer for the last 3 Years. I am an expert in WordPress and eCommerce. I can make any type of website.
On time delivery
100% satisfaction
website full file backup
support and guideline
Lets talk and build another amazing WordPress asset ! find me on
Fiverr
10 Best Travel Agency WordPress Themes
This collection of the best travel agency WordPress themes includes a varied selection of options that can be used to create a range of different websites. Whether you need to create an online presence for your brick-and-mortar travel agency, start promoting your services as a freelance travel agent, or launch your online travel agency empire, these themes can help.
1# Travel Booking WordPress Theme
Traveler not just Travel booking theme it is a Booking Engine, designed for a travel website, Marketplace, Travel Agency, Tour Operator, Car Transfer, Activity/Event, Hotel Booking, Room Bnb, Villa Rental, Resort Rental, Flight Booking, Make Affiliate Travel website. Easy to turn On/Off any service you would like to use for your purpose.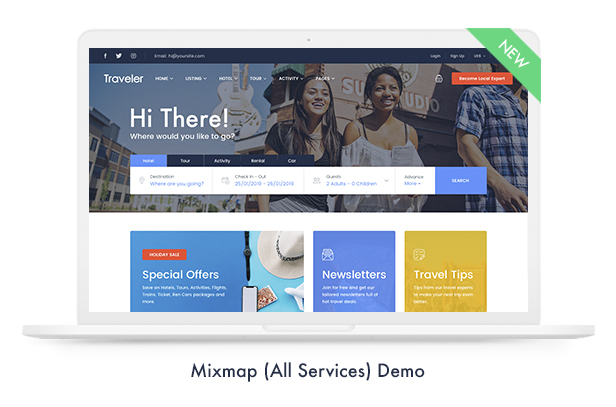 With 6+ years working on travel products we confident to bring to you the best product for your travel site with optimized UX/UI, friendly on mobile on the search engine.
2# Book Your Travel - Online Booking WordPress Theme
Book Your Travel was the first WordPress travel booking theme on themeforest and has kick-started a revolution in WordPress travel themes. We believe it is directly responsible for a drastic improvement of the tourism niche – with several thousand satisfied buyers, it is evident that our customers agree.
This fully responsive WordPress theme was designed and developed specifically for a travel agency, tour operator, cruise operator, rent a car companies and others in the tourism business. Ready to be translated into any language, Book Your Travel boasts features such as a powerful and completely integrated booking system, an accurate availability checker, advanced search filtering, marketplace area where users (vendors) can submit and manage their listings, availability, rates and bookings, user review system and much more.
3# TravelTour - Travel & Tour Booking WordPress
Travel Tour is a premium responsive WordPress theme that comes with the most complete tour management system. This theme is especially designed for tour operator, travel agency, tour package, travel blog, city tour, one day tour, sailing trip, yacht charter. The system is integrated with plenty of necessary features.
Travel Tour comes with the latest version of super powerful & customizable framework by GoodLayers. For years, we have been developed our theme's core, gathered every feedbacks from customers and put everything into this framework. It also comes with the most powerful drag drop page builder. It is super flexible with tons of great features such as background wrapper options, custom skin color for specific item wrapper, three view modes(live, preview, block), ajax page builder saving, pre built pages and blocks and much more. Travel Tour also featured with Revolution Slider($19 Value included for free!), the most powerful drag-drop slider creator.
4# Love Travel
Love Travel WordPress Theme is a multi-page website and a theme Multipurpose. The site has been designed for travel agency, tour operator, travel blog, but thanks to his creative graphics, simple, modern, flat and clean well suited to any business. Thanks to its excellent structure and layout of the theme you can use Love Travel WordPress Theme for all services related to tourism such as hotels, resorts, honeymoon, cruise, travel and much more. For lovers of travel, Love Travel adapts awesome to talk about your trip and your holiday between sea and mountains in both summer and winter. Love Travel may also be suitable for your creative agency (web agency). The theme has been designed using the 1200 px grid system with 12 columns.
Love Travel has a system of custom filter. In this way, the user can search the tour / trip in the best way. The filtering system search by destination, price, season, type and duration of the trip. You can insert your information in the taxonomies in order to customize your filter trips. The booking of the trip will be very easy for the user.
5# Adventure Tours - WordPress Tour/Travel Theme
6# Altair | Travel Agency WordPress
7# Entrada Tour Travel Booking WordPress Theme
8# Tour Booking & Travel WordPress Theme - Embark
9# Grand Tour | Travel Agency WordPress
10# Trendy Travel