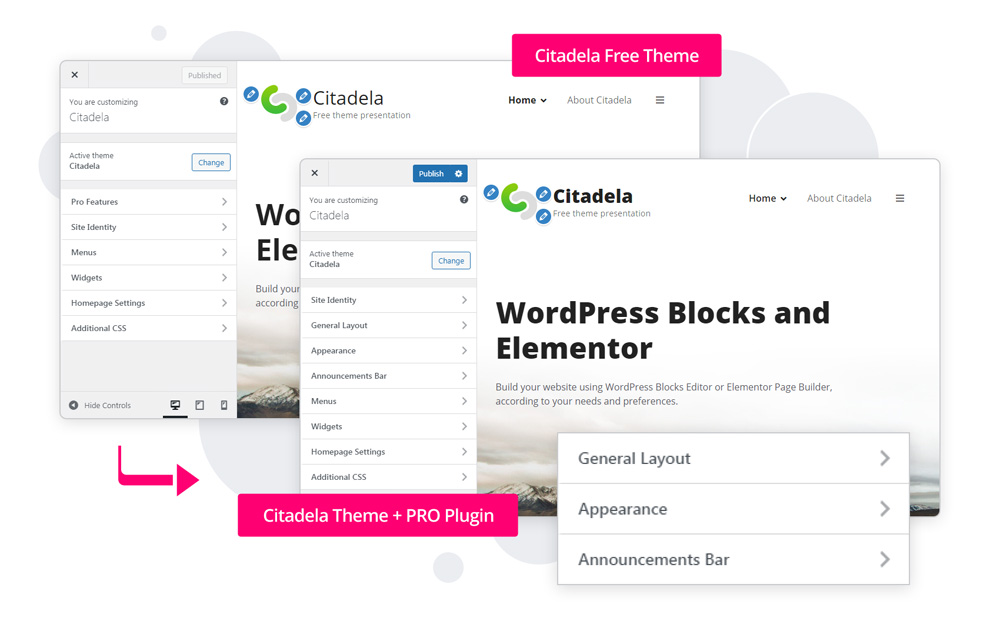 Are you looking for the best AitThemes club themes for your WordPress and WooCommerce website? It is an inspiring WordPress solution for Business, eCommerce, and Content websites. Premium theme and plugins that help you create amazing website content. Run successful projects with premium support.
Citadela products
Citadela is a modern and modular Gutenberg solution for business and directory websites. Be ready for the WordPress evolution. One theme and three plugins are all you need to make a successful website.
Citadela Plugins
Citadela plugins are premium WordPress plugins that extend the functionality of your Citadela website. Those are WP plugins that add new WordPress blocks, front end and back end features. By using them, you can easily alter the appearance of your website. Also, you can customize the design and reorganize the elements (blocks) on each page. As a result, you can create a much better and more useful site for your web visitors.
Install Premium WordPress Theme or Plugin
[Our-Services]
I can offer the best premium WordPress plugins and premium themes for WordPress. We have a collection of the newest and advanced plugins and themes for WordPress. 100% working and safety guaranteed
My Featured services:
WordPress Install and Setup
Theme Setup and Customization
Plugin Install
Replace demo content
Facebook Pixel Setup
100 % Quality and time Guaranteed
Live chat
Any WordPress error fix
Woocommerce Setup & Payment Method add
Extra Fast delivery with less than 2 Hours
Professionalism, Quality, Flexibility and 100% Customer Support
Many plugins and themes are also available, you just need to ask :FIND ME ON
FIVERR
27 Ait-Themes Plugins You Should Know
Citadela Pro plugin only works with our Citadela WordPress theme. Other Citadela plugins, however, work with any modern theme built for blocks. If you, for example, would like to use Citadela Listing on your existing website without switching to the Citadela theme, install the plugin and start using it.
AIT Advanced Filters
AIT Advanced Search
AIT Announcements Bar
AIT Citadela Blocks
AIT Citadela Directory
AIT Citadela Pro
AIT Claim Listing
AIT Comments Extension
AIT CSV Import / Export
AIT Directory Migrations
AIT Easy Admin
AIT Elements Toolkit
AIT Events Pro
AIT Food Menu
AIT Get Directions
AIT Infobar
AIT Item Extension
AIT Item Reviews
AIT Languages
AIT PayPal Payments
AIT PayPal Subscriptions
AIT Permissions Manager
AIT Quick Comments
AIT Shortcodes
AIT Special Offers
AIT Stripe Payments
AIT Subscribe Form
Citadela Pro Plugin is a native extension of FREE Citadela WordPress Theme. WordPress customization plugins, as mentioned before, add more options and settings into your WordPress editor and admin panel. Using the Citadela Pro plugin, you can modify the Citadela WordPress theme and create a perfectly unique website every time. Citadela Pro plugin also adds styling options for other Citadela plugins such as Citadela Listing and Citadela Blocks.
What can I do with Citadela Pro?
Citadela Pro plugin strictly follows all WordPress rules and only uses standard features. Let's have a look at Customize screen. Following the sidebar on your left-hand side, you can make various changes to your website appearance. Also, you can preview all changes in real-time before publishing them.
Site identity
The first thing you come across in the customizer is Site Identity. As the title suggests, this section will help you define your website. It's essential not only from the web design point of view but from every other aspect too. Site identity tells your web visitors who you are and what you do, imprints the first impression and strengthens branding.
Site identity covers four crucial elements of your website:
1# Logo
Appearance > Customize > Site identity > Select Logo is how to add logo to WordPress website. Make sure your logo is high quality and right dimensions with regards to your chosen theme and home page layout.
2# Site title
Site Title is usually the name of your company. If the name is already clear from your Logo, you can use the site title field to emphasize your short branding message.
3# Tagline
Fill in the tagline to clarify the purpose of your website. Alternatively, leave this line blanc – less is sometimes more, especially when you're aiming for airy web design.
4# Site icon
Site Icon or Favicon is another branding detail that matters a lot. Make sure to use it. Upload your favicon by clicking the "Select site icon" button.